OUR WHY
A MILLION REASONS WHY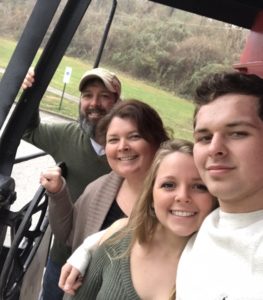 Family is the biggest why.  They have all supported this adventure from the beginning.  I would not be bringing flowers to the table without them.  We are in this together, from beginning to end.  The journey is not always easy, quality time together is being spent (mostly working, sometimes more than we would like) and valuable lessons are being taught and learned (some we would rather do without).  This has more value to me than any paycheck.  
This is my second career and it has been a lifestyle changer for all of us.  I'm making every effort to design this one around happiness, both in our home and yours.  I whole-heartedly believe that our products and services are pure goodness and am so happy to be able to share them with you.  Witnessing the reactions provoked by simply handing someone fresh, beautiful flowers is truly a gift for all involved.  
Not to mention, Petaled Pail customers are the BEST!  Just like our flowers, they come in every variety and we love them all!  Each day I look forward to talking with a customer, introducing a little one to the world of flowers, hearing childhood stories from another and how a particular variety is a reminder of something or someone special from their past, hearing wedding proposal stories and seeing the excitement in her eyes while we're discussing wedding plans.  I could go on and on with these examples.  I really do have a million why's.
It could be 100 degrees or 25 in the field, 2:00 am and I'm still awake designing, or planning seed orders and plots, a 4:00 am alarm on market day and I am thankful [everyday] that this is what I get to do. 
We take pride in our natural growing methods and using no synthetic chemicals or sprays.  We focus on growing specialty and heirloom varieties and producing high quality, chemical free, sweet smelling blooms.  The kind you just don't find in a big box store or commercial florist.  Our blooms are truly fresh and safe for you and our planet.
We are passionate about flowers and people and have seen first hand that combining both exudes beauty and happy. Our mission is to facilitate that combination and enjoy the result every day. ~Petaled Pail Flowers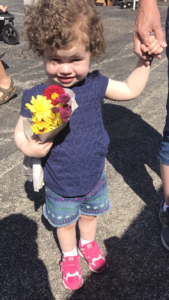 Why Buy Local?
Our ingredients begin with  intensive, strategic planning, soil fertility, plant health and succession planting.  This foundation enables us to produce an impressive amount of flowers right here in our backyard. In our country, currently 80% of the cut flowers sold are imported from other countries. Meaning, most store bought flowers have traveled thousands of miles before reaching our area.  They have likely been treated heavily with chemicals and preservatives to survive their travel.  Petaled Pail flowers are grown and sold locally, are raised in a healthy environment, and cut at their peak, which affords them the longest possible vase life, without the need to be treated with harmful chemicals. They are safe for you and everyone that comes in to contact with them.  Just like the growth of the local food movement, conscious consumers are catching on and choosing local and American Grown flowers.  

YOU ARE ONE OF MY MILLION WHY'S ♥