CORPORATE EVENTS
From the most intimate private party to the board room, the largest gala to a product launch, office holiday celebration to a themed fundraiser, you're hosting an event for a reason.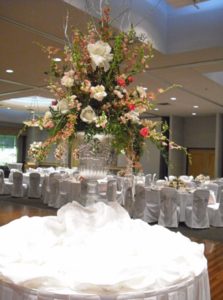 Floral design and decor is what sets the tone and conveys your intended message to your guests.  The instant your guests enter the room, they can feel the tone you wish to set.  The atmosphere you create has a direct impact on your results.  Let us bring your vision to life and get your guests in the mood to give you the results you want.  Petaled Pail understands the needs of the professional world.
Floral designs add life and sentiment to any professional occasion.  Petaled Pail will work within your budget to provide creative floral designs with centerpieces, stage displays podium garlands and floral arrangements that will add memorable ambiance and style to your business occasion or fundraiser. 
Corporate Services
Take something off your plate!  Petaled Pail corporate services make planning your next corporate event simple.  From corporate dinners and business meetings, to VIP conferences and holiday events, we handle all of the details so you don't have to.  Your event will come to life with beautiful tablescapes and exquisite floral pieces, crafted to your preferences and because we offer a full service menu, we assist with every aspect of the event, including coordinating with other vendors, sourcing specialty items, set-up and take down.   Simply stated, we do what we do best, so that you can do your best.
Your events are an opportunity to escape the ordinary.  Whether you're planning an intimate gathering or an extravaganza, Petaled Pail has every detail covered.  We can take care of everything from floral pieces for dinner tables, buffets and entries, to all aspects of the planning.  We assure you that your vision will come to life before your very eyes.  Guests will marvel and you will love how easy it was to throw such a memorable event.  
Corporate Offerings
Take advantage of Petaled Pail's full menu of corporate flower design offerings to refresh and enhance the beauty of your work environment.  Specializing in weekly flower delivery, corporate event design, holiday decor for the office and corporate gift giving.  We will familiarize ourselves with your business and get to know the brand of your company  and your specific preferences, exhibiting excellence and professionalism every step of the way.  Join the ranks of many hotels, restaurants, businesses and retail stores in our area who choose the very best flower services for their company, clients and colleagues.
Create a Petal Pail business account for all your gift-giving and decorating needs.  We can arrange monthly billing and major event work will be billed at special pricing.  
Call us for client and staff gifts for sympathy, new baby, congratulations, welcome home.  Send flowers to show you care, because "every occasion" is special.
Out of town guests?  Place welcome arrangements or gift baskets in their hotel rooms.  Dinner meetings, why not put fresh flowers on the table?  
Make your office stand out and create an inviting space with flowers in your entryway, waiting rooms, reception areas and work spaces.  This creates an atmosphere of friendliness and warmth.  Your staff and visitors will notice and appreciate it.   Your imagination and our expertise will create show-stopping visual effects for your office, meeting rooms and public spaces.
Fundraisers
Set the perfect tone for your next fundraiser event.  We will bring the spirit of your charity organization to life!  We will work with you to create a festive glow that captures the attention of every guest on any budget, in any theme.  We love a challenge and are more than happy to work an imaginative wonder within your preexisting parameters.  
We understand that a professional event is a visual extension of your brand and message.  Attention to detail and quality services are the trademark of our design services.   Whether it is a business celebration or fundraising event, client appreciation party, networking occasion, boardroom meeting, or any other corporate function, Petaled Pail has the experience and dedication to make your event a warm and  inviting occasion that guests will not soon forget.
Contact us today to schedule a consult for your upcoming professional event or fundraiser.  We're currently consulting for the 2019 holiday season.