FLOWER CARE & INFO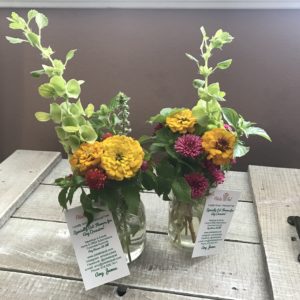 ♥Always use a clean vase for your fresh flowers.
♥In picking a place to display your flowers, keep in mind that they don't like any heat sources.  Try to avoid placing them near any appliances, TV's, sunny windows, etc.
♥Petaled Pail flowers are known to have a vase life of more than a week.  Of course, some varieties last longer than others because of their genetics.  Here are a few tips that can help extend vase life for all varieties.
♥Every few days rinse and trim the stems and replace the water in your vase.
♥It also helps to trim the stems, if you've had them out of water at all (like in transit or while arranging).
♥All Petaled Pail arrangements have flower food in the water.  If you have some, follow the instructions on the packet before adding more.
♥Remove any leaves from the stems that will be beneath the water line.
♥As they fade and wither, remove the spent flowers and continue to enjoy the blooms that are still vibrant.
Be sure follow us on social media to keep up with our latest posts, offerings and schedules.
Follow us on Facebook, Instagram & Pinterest to stay in the loop!