SUBSCRIPTIONS & SERVICES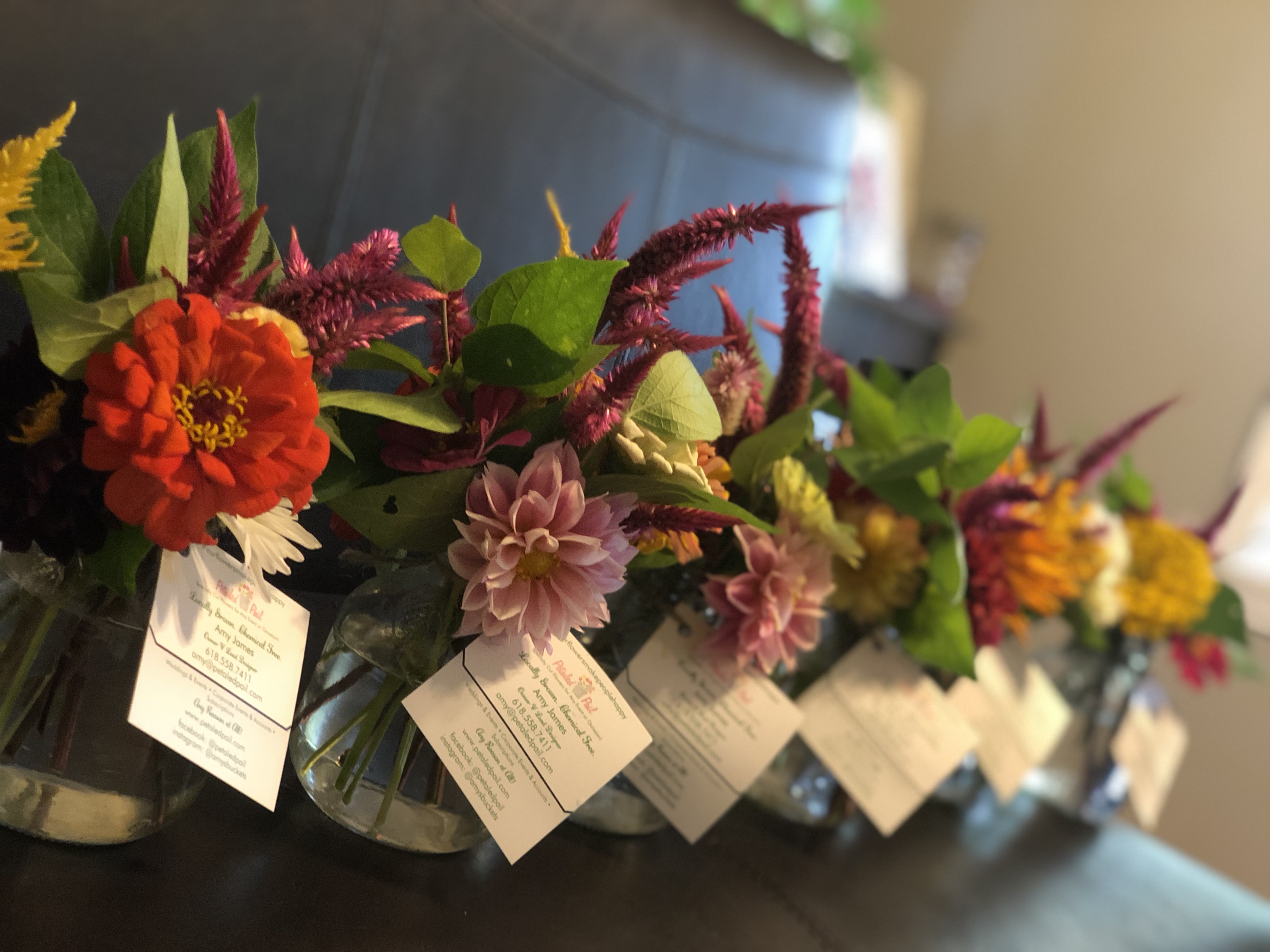 Individual orders ~We offer a full list of products and services.  If you don't see what you're looking for here, feel free to call us with your special request.  We're happy to see if we can pull it off, or help you find someone who can.
If you don't want to commit to a subscription, or a regularly scheduled pickup, we understand.  Feel free to call us anytime with an individual order for yourself, as a gift or a special occasion.  We can deliver or schedule a one-time pickup for you.
Keep up with us on Facebook and Instagram, or check the website, for our scheduled drops and pickups.  Once or twice a week, depending on the amount of orders, we will arrange for a meeting place at a particular time and location, as a scheduled arrangement pickup for weekly and individual orders. Contact us today to schedule your pick-up!
Subscriptions~ What is a flower subscription?  Subscribers will receive a locally grown, handcrafted, floral arrangement of their designated size, weekly, biweekly or monthly, you choose. Petaled Pail subscriptions make a perfect gift for yourself or a loved one – they will start your day off happy and brighten up your home, office, business, or any space.
Each season brings a new design style with different flowers, foliage and texture to enjoy and our subscription offerings reflect what's currently in bloom.
---
WANT FRESH FLOWERS ALWAYS, ALWAYS?
Petaled Pail offers several subscription plans to meet your home and office subscription needs.  Click here to purchase a subscription for your home and/or office, or feel free to contact us with any questions regarding subscriptions . 
Not looking for a subscription, just need to order something specific? Visit the Petaled Pail SHOP to order anything you need.
---
Weddings and Occasions: If you love the idea of having local and sustainably grown flowers for your, weddings, showers, rehearsal dinners, engagement parties, birthdays, dinner parties, holiday gatherings, sympathy, or any other occasion, Petaled Pail is a full service shop, specializing in exactly that.   Our designs are inspired by nature and reflect the beauty of the season and are specifically tailored to exceed your expectations. Click here for more information regarding Petaled Pail Weddings and here for Special Occasions.
Corporate Events: Do you have an upcoming corporate event or fundraiser?  Petaled Pail is seasoned in professional events.  We can create a warm and welcoming environment to put your clients, employees and special guests at ease, helping to facilitate a successful and enjoyable professional occasion. Find more information on Petaled Pail designs for your corporate events and fundraisers here.
Corporate Services: Take advantage of Petaled Pail's full menu of corporate flower design to refresh and enhance the beauty of your work environment.  Specializing in weekly flower delivery, corporate event design, holiday decor for the office and corporate gift giving.  We will familiarize ourselves with your business and get to know the brand of your company  and your specific preferences, exhibiting excellence and professionalism every step of the way.  Join the ranks of many hotels, restaurants, businesses and retail stores in our area who choose the very best flower services for their company, clients and colleagues. See our corporate services and offerings here.
Business to Business:  Client & employee appreciation: Let us deliver flowers to your clients or employees for birthdays, anniversaries, thank you's, or any other reason.  We can manage your client list and bill you monthly, or you can order as needed and pay accordingly.  Get in touch with, we will work out a plan.
Restaurants & cafes:  Whether you need full arrangements or simple bud vases on your tables, hostess stand or event area, our flowers are grown chemical free, so no need to worry about what you're putting on your tables.
Reception and waiting areas: We have subscription plans that deliver beauty on a weekly, biweekly or monthly basis for your clients, customers and patients to enjoy while they wait.
Contact us today with any questions regarding B to B options that we offer.
Seasonal Holidays: Sharing our locally produced flowers, plants and holiday offerings with you makes us happy. We're thankful for the opportunity to have a small part in your holiday seasons.  We work extra hours and run delivery specials to coincide with most major holidays, making every effort to get you what you need to make your occasion perfect. Check out our "Holiday" page for the latest Petaled Pail designs and offerings available for this holiday season.
Holiday Decorating:  Need some help planning your holiday decorations, or hanging them in those hard to reach places?  We have you covered.  Contact us to schedule a consultation.
Holiday Offerings and Design: Plants, wreaths, centerpieces and more!  We have an ever-changing seasonal selection of living and preserved decor and accessories.  Be sure to keep up with us here on our website, or on Instagram, Facebook and Pinterest , or get in touch with us to see what's new.
Shop: Check out our Petaled Pail Shop here, to see our newest offerings of seasonal items, seeds and other nice things.
*Availability. In the event that you request a variety that we don't grow, or don't have enough of on hand, we will source what we can locally and will always get the rest from other American flower growers in warmer parts of the country.  We can't control Mother Nature and sometimes she does have a say in our production.
We're so happy to have the opportunity to keep you in fresh blooms! ~Amy