BUTTERCUP PICKUPS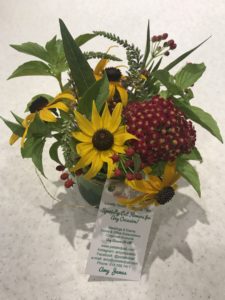 Can't catch us at the market?  Good news!  Take advantage of our weekly Petaled Pail scheduled pickups at local Metro East locations.  Just contact us to let us know what size arrangement you'd like this week and be at the designated meeting place on time to get your order.
Be sure to sign up for our email list, follow us on social media,  or check in with us at the beginning of each week for our pickup schedule.
♥ Just like at the market, if you return your last jar, you will receive a one dollar discount!
♥ Also, outside of the market, this is the only time & place to purchase our market exclusive "Littles" for just $5 each.
Petaled Pail Pick Up Schedule
Be sure follow us on social media to keep up with our latest posts, offerings and for this week's schedule.
Follow us on Facebook, Instagram & Pinterest to stay in the loop!
Did you know, items purchased from our Petaled Pail Shop can also be picked up at these weekly scheduled locations.